Earlier this week, I held a free wellness webinar (part of a monthly series; e-mail me to learn more!) where I shared the benefits of having a regular meal plan in place. This is a topic that comes up often, but especially at the beginning of the year when so many of us might have fallen a bit off track with our eating habits and/or overindulged during the holidays and want to feel a little more in control of our food choices, an important factor if we're managing chronic conditions or looking to be more mindful of food and financial waste.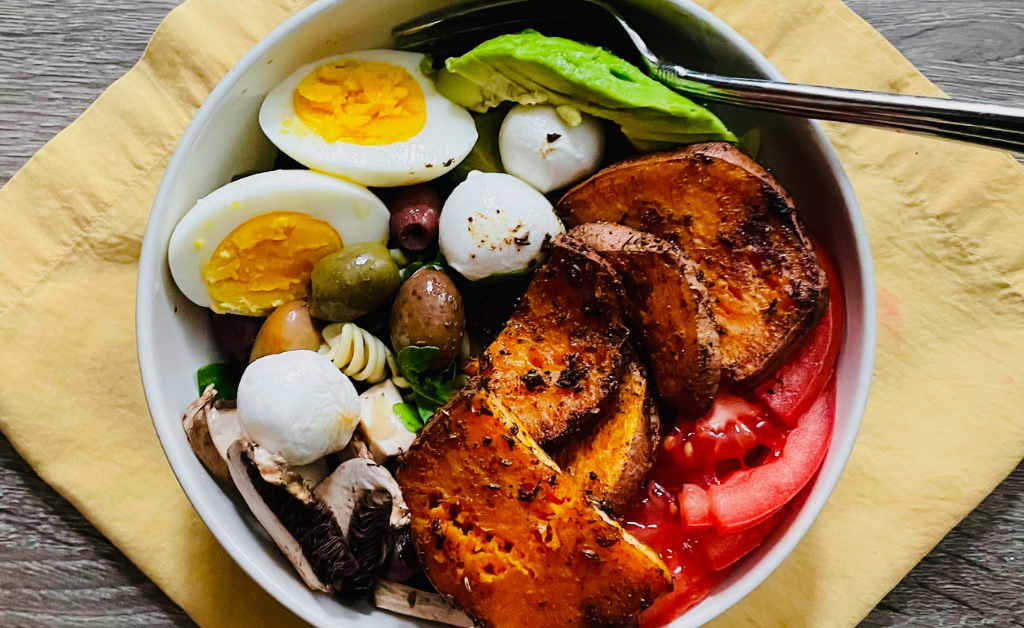 Below are some ideas to help you get started–or pick up where you left off–when it comes to meal planning:
Cook/prep food at home more often: If you have some basic tools and equipment, you can get a lot done in a short amount of time or, you can choose one-pot recipes. Add prepared foods like cut fruit, string cheese, pasta salads, chopped vegetables, hummus, and nuts to your mix.
Eat the rainbow: The more, the better when it comes to vibrant-colored plant foods. Include a variety in as many meals as possible. Experiment with the colors and textures of the seasons and create a balance that works for you.
Add more whole foods: Eggs, lentils, beans, and frozen vegetables are some of the most affordable, versatile, and nutrient-dense foods you can find. Create meals that include store-bought, packaged ingredients with whole food items.
Buy what's in season: One of the best ways to get your money's worth. If you can't get a fresh option, then grab the frozen or canned version instead. Read labels if you aim to limit added fat, sugar, and salt in your diet.
Buy only what you need: Depending on how many people are in your household, even when things are on sale, bring home only what you know you can use within a specific amount of time, so that you're not being wasteful or dealing with unnecessary inventory in your kitchen.
Budget (time/money) accordingly: When you will be home? Any late nights or events coming up? When will you go shopping? If you are short on time, purchase something already prepared. If you want to save money, purchase whole items to prepare on your own.
Visualize meal concepts, not just recipes: Create meals that give you leftovers for low-energy days and allow for times when you just want takeout. Mix and match what you have on hand to be most efficient.
Click here to check out the Gaining Kitchen Confidence playlist on the DishWithDina YouTube channel and revisit our past meal-planning posts below for more strategies and tips!
Are you a meal planner? If so, what strategies do you use to keep up this habit? If not, what are some challenges that keep you from meal planning?