With the summer heat coming to a close and the cool autumn breeze fast approaching, it is important for us not to become stagnant in our healthful habits. It might seem desirable to cuddle up on the couch with some comfort food once the temperatures drop, but don't forget to get in your servings of fruits and vegetables as well. In the U.S., farmers' markets are still chock full of colorful produce, so be sure to take advantage of the bounty while it's still there. Besides, September just happens to be "Fruits & Veggies––More Matters" month.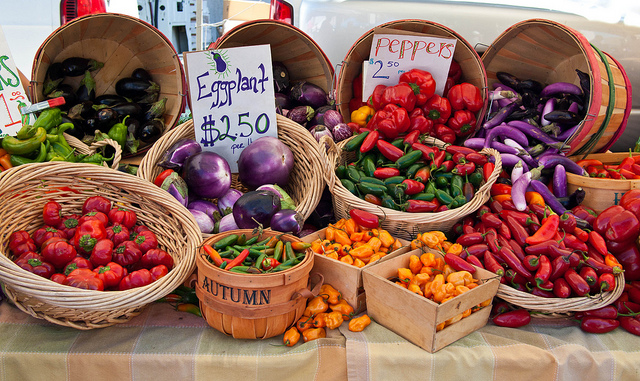 (image credit: WPR.org)
On average, New Yorkers eat less fresh produce in the fall and even less in the winter, than they do during the summer months, regardless of the fact that NYC has over 139 greenmarket locations within its five boroughs, most of which operate year-round.1 Many of us may feel too overwhelmed by work, bills, and family life, that making sufficient time in our busy schedules to browse through farmers' markets for fresh produce with limited shelf life feels akin to an unnecessary chore than anything particularly beneficial.
What may limit Americans in creating habits concerning weekly farmers' markets, and/or grocery shopping in general, is not only a lack of information about how to shop, but also a lack of information regarding what to shop for.2 The abundance of food options may cause a great hindrance to shoppers' abilities to make significant changes to their food shopping habits. Though the great increase of selections concerning produce is appealing mentally, in practice, however, it may often debilitate shoppers.
In addition, market patrons, who may live with tight financial constraints and are unsure about proper food storage and efficient meal planning may make dietary and food purchasing decisions that are more unhealthy than not. For those that struggle with cooking time/skills or eating similar meals frequently, the added fact that farmers' market fruits and vegetables have a very limited lifespan may also increase stress around the immediacy of consumption.
In order for food shoppers to develop weekly habits for farmers' market shopping, and prevent market attendance from waning during the fall and winter months, taking the necessary steps will prevent stress overload and make fresh produce shopping less complicated and more exciting!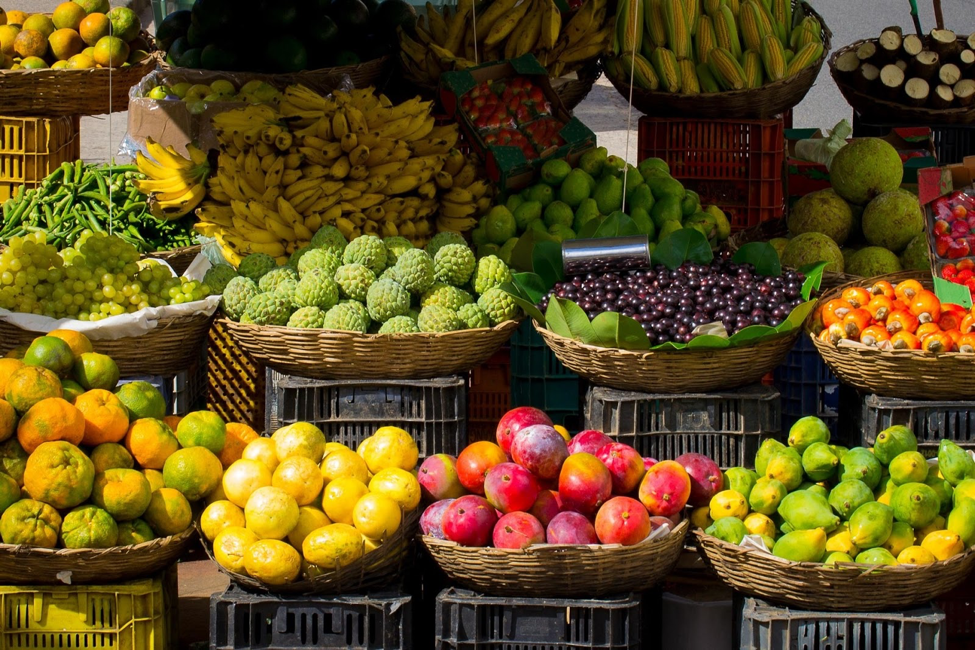 Step 1: Budgeting: How much are you willing to spend?
Buying fresh produce seems very expensive when, in actuality, it is cheaper in the long run. First, determine how much money you're willing to spend, then calculate how much you normally spend both weekly and monthly, making sure to include how often you dine out or purchase lunch outside instead of taking leftovers to work. Make sure the market you attend receives currency in the form of Health Bucks and/or food stamps if your budget is very tight. Your shopping list must be based on your budget, along with recipe adjustments that will most likely incorporate rotating certain veggies into different dishes.
Step 2: Recipes: Find recipes that you can rotate and use your staples as a base!
What do you cook often? What are your staple foods? Do you like brown rice? Does your breakfast always include bananas because you think they're the cheapest fruit you can find? Farmers' market vendors can often suggest simple recipes relating to the types of produce they provide. Allow yourself the possibility of varying your fruits and vegetables. For example, if you are left with a large amount of spinach at the end of the week, you can quickly use it up as a base for a salad instead of your old standby romaine lettuce. Leftover onions and broccoli would be a great addition to your morning omelet or scrambled eggs. If blueberries happen to be the right price and are in-season, buy extra and freeze them to use in desserts or breakfast smoothies at a later date.
Step 3: Meal plan: Start weekly, then make necessary adjustments.
It is important to first calculate your daily energy needs in order to be certain of how much food you need to eat weekly and how much to buy in the first place. Your weekly meals can easily be rotations or variations of your go-to recipes and your produce shopping should be nutritious additions to your staple foods. For example, if you made split pea soup for dinner Monday evening you can use the leftover celery, carrots, and onions from that meal in a tuna sandwich for lunch the next day. Meal plans should incorporate an adequate balance of your essential nutrients according to your specific energy needs and physical lifestyle––such as carbohydrates, proteins, and fats––through a varied diet of whole grains, vegetables, nuts, seeds, fruits, lean meats, and/or fish.
[Editor's note: Click here to learn more about meal- and menu-planning and here for some smoothie mix-and-match suggestions (over 3,000 combinations to make sure you get your fruits and veggies on).]
Step 4: Shop!
Find farmers' markets that you know will provide the necessary foods you need for your meal plans, are budget-friendly (like the Fresh Food Box offerings in most NYC neighborhoods), and are closest to you. Take hold of the wonderful abundance of food options we have in our city during the cold season to come. As a result, not only will your health benefit from a nutritious and varied diet, but you will be contributing to a greater, environmentally sustainable cause, and without breaking the bank.3
[Editor's note: Click here to find a farmers' market in or near your zip code and here for more tips on shopping at your local farmers' market.]
References:
NYC.gov. (2017). Farmers Markets in New York State.
Graffagna, S. (2014). "10 Healthy Habits for Fall." Superhero You website.
Tufts University. Health & Nutrition Letter. (2016). "Eat Your Fruits and Vegetables to Help Fight Frailty." Tufts.edu website.

Guest post by Abigail Ortiz, nutrition student