There is a screenshot waaaay down in my Instagram feed of a conversation I had with my dad a few years ago when I said I would be going back to school to become a Registered Dietitian and he didn't understand why I needed to spend so much time and money on a degree and title just to learn how to make a salad.
That discussion cracked me up at the time; but, here we are, four years later, and now it makes me equal parts angry and sad. Becoming a dietitian requires either a Bachelor or Master of Science (usually in nutrition), meaning four years of school––taking classes like anatomy and physiology, microbiology, biochemistry, biostatistics, and medical nutrition therapy––or at least a couple of years in an accredited program for those who ended college the first time around without a B.S. to gain entry into a science program. After that, provided your application is selected, is a year-long competitive and exhausting dietetic internship/supervised practice (that's 1,200 hours working for free, people––at hospitals, nursing homes, health clinics, and community programs––usually while simultaneously paying for and attending weekly seminars and/or full-on grad courses back on campus), followed by taking and passing a national exam. At the end of what seems like a venture into pre-med, you must be thinking, "Wow! Dietitians must get paid like doctors!" Not even close. In the U.S., the average annual salary in this field is about $53,000, and not much higher in the big cities.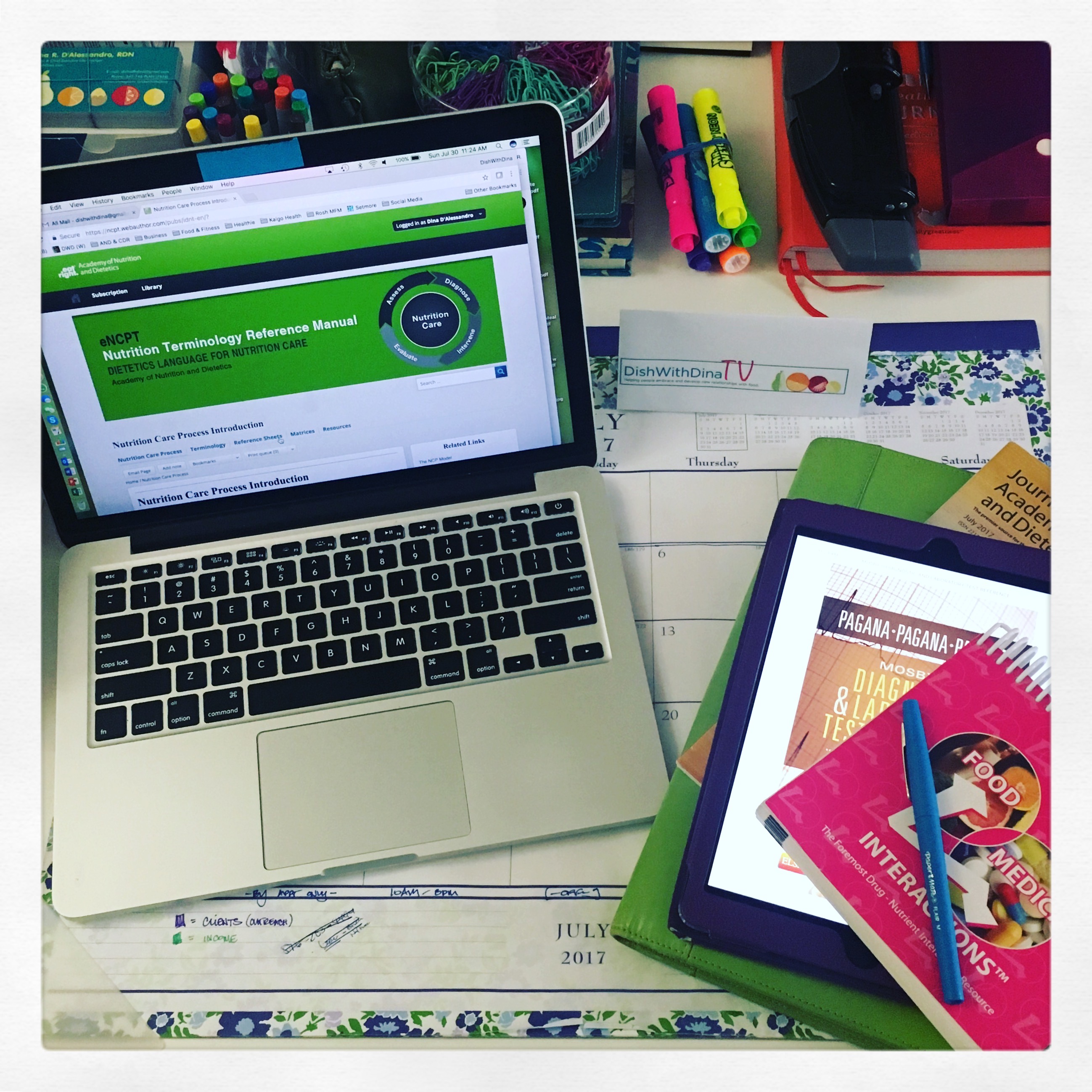 Those ain't cookbooks.
Like my dad, so few people seem to actually understand––and respect––what a dietitian is and what this profession is about, even though 2017 marks the profession's centennial with the Academy of Nutrition and Dietetics in the U.S. Hopefully, this blog will give you insight into my new life as a dietitian and the dietetics field overall; but, I encourage you to ask questions of any health and wellness practitioner to better understand their role––and credentialing––in supporting people's health.
To start, not everyone has taken the same path to get to where they are in this field, and there are definitely some folks making it a little more confusing for the layperson than it has to be (or, perhaps, taking advantage because of it). Lately, and especially in the world of social media, it seems the general public tends to believe doctors––and celebrities––over dietitians when it comes to food and nutrition. Case in point: the newly released documentary What the Health which is getting plenty of buzz from all sides (and which I'll save for a future discussion). So, how about we make a deal? I won't perform open heart surgery if you don't tell people about the miraculous weight-loss benefits of raspberry ketones and garcinia cam-whatever-the-heck. (I'm looking at you, Dr. Oz.)
Next, being a dietitian is not just about encouraging people to eat salad (though, yes, we would love for you to get your recommended daily nutrients by consuming all kinds of fruits and veggies to promote overall health and prevent disease). We span the gamut of occupations, from clinical nutrition to community and corporate wellness to public speaking to recipe development and foodservice management. The list goes on! For me, a typical workday––and, as an entrepreneur running her own private practice, that's usually every day of the week––can often look something like this:
8:00 am – 12:00 pm – Conduct research on chronic conditions, rare illnesses, food-drug interactions, allergies and intolerances; review client charts and follow up with clients from previous week
12:00 am – 4:00 pm – Work with volunteers on community collaborations; develop marketing materials and online/social media promotions; draft and schedule blog posts; attend practice group conference calls and professional development webinars
4:00 – 8:00 pm – Meet with clients (weight loss, prenatal/gestational diabetes, disease management) for nutrition counseling sessions; write up client charts; follow up with interdisciplinary teams as needed
The only salad I make during these days is for myself during lunch. #burn
Lastly, as I've said many times before, I want to make a difference in this field and I realize it could be a bit of an uphill battle, if I let it. I remain determined to dispel some of the preconceived notions (or ignorance) out there and clarify any confusing concepts, and I would love your help. Thanks in advance to anyone who chimes in.
If you have any questions, comments, or suggestions about health-related issues about which you'd like to learn more, please post below.
If you are an "RD2Be," please let us know what concerns you most about venturing into this field or what you're most excited to pursue in your new career.
If you are a Registered Dietitian/Nutritionist, please share below your stories of starting out, the wackiest things you've heard from clients, patients, or other health professionals, or any of the successes and challenges you've come across over the years. I'm hoping to turn this "Day in the Life" blog post into a series and would love to line up interviewees over the next few months.