Guest post by Yurico Li
Editor's Note: With the start of every new year comes the countless and endless advertisements promoting weight loss–usually via a quick fix, extreme approach, or without the guidance of a qualified and credentialed health professional–as a way to deem people in smaller bodies are more socially acceptable. Because of this, we thought it would be fitting to address the issue of weight bias (or weight stigma) in our first post of 2022.
What is weight bias?
According to Kirk et al. (2020), weight bias is defined as having negative attitudes, beliefs, assumptions, and judgements towards people living in larger bodies. Furthermore, weight stigma refers to social stereotypes and misconceptions about obesity, which spans the spectrum of carrying an "excess" amount of body fat, but calculated solely through someone's height and weight, which does not account for body fat. (Medium covered the issues with body mass index assessments and calculations in this 2019 article.) Examples of these misconceptions and stereotypes include beliefs that people with obesity are lazy, awkward, sloppy, non-compliant, unintelligent, unsuccessful and lacking self-discipline or self-control (Kirk et al., 2020).
Weight bias can lead to weight discrimination which is the unfair treatment of individuals because of their weight. These unfair treatments can include health professionals spending less time, providing less emotional rapport with patients living with obesity or denying treatment (Kirk et al., 2017). According to a survey of 358 nurse practitioners conducted by Fruh et al. (2017), nurse practitioners reported negative beliefs and attitudes toward patients who are overweight and obese. They assumed that individuals who are overweight (or obese) to be not as successful as their slimmer counterparts, not fit for marriage, messy, and unhealthy, confirming that the prevalence of weight bias exists within health care settings as well.
Consequences of weight bias
Behavioral

: Social media assumes individuals living with obesity are personally responsible for their weight problems because of overeating, lack of exercise, and laziness (Fruh et al., 2017; Puhl & Heuer, 2010). As a result, this leads to individuals holding the belief that body shaming individuals who are overweight will push people living with obesity to lose weight. These negative assumptions of individuals lead to many health consequences. Alberga et al. (2016) states that individuals living with obesity often turn to unhealthy eating behaviors due to weight stigma. Examples include fasting, extreme dieting, and excessive exercise. Or, alternately, avoiding exercise because they fear of being shamed for their weight and binge eating to cope with stress from weight bias.

Mental Health

: Experiences of weight bias lead to increases in anxiety, depression, stress, antisocial behaviour, substance use, and body image dissatisfaction (Kirk et al., 2020).

Socioeconomic

: Lastly, weight bias can have social and economic consequences such as fewer opportunities for education and employment because teachers and employers have common perceptions that individuals living with obesity are lazy, unintelligent and ultimately will not be good at their role (Kirk et al., 2020; Fruh et al., 2017).

It is important to understand that there are a variety of factors that contribute to the development of obesity and not all individuals in larger bodies are metabolically unhealthy (just as not all people in smaller bodies are beacons of health). No matter a person's size, there are many factors–including genetics, environment (e.g., poor access to healthy foods or physical activity facilities), pre-existing health conditions, medications (i.e., there are medications that promote weight gain), poor sleep, income, and many more–that interplay and can contribute to one's overall health status (Kirk et al., 2020). Instead of placing judgment based on one's external appearance, consider focusing on the individual's lived experiences and reducing the prevalence of weight bias in any way.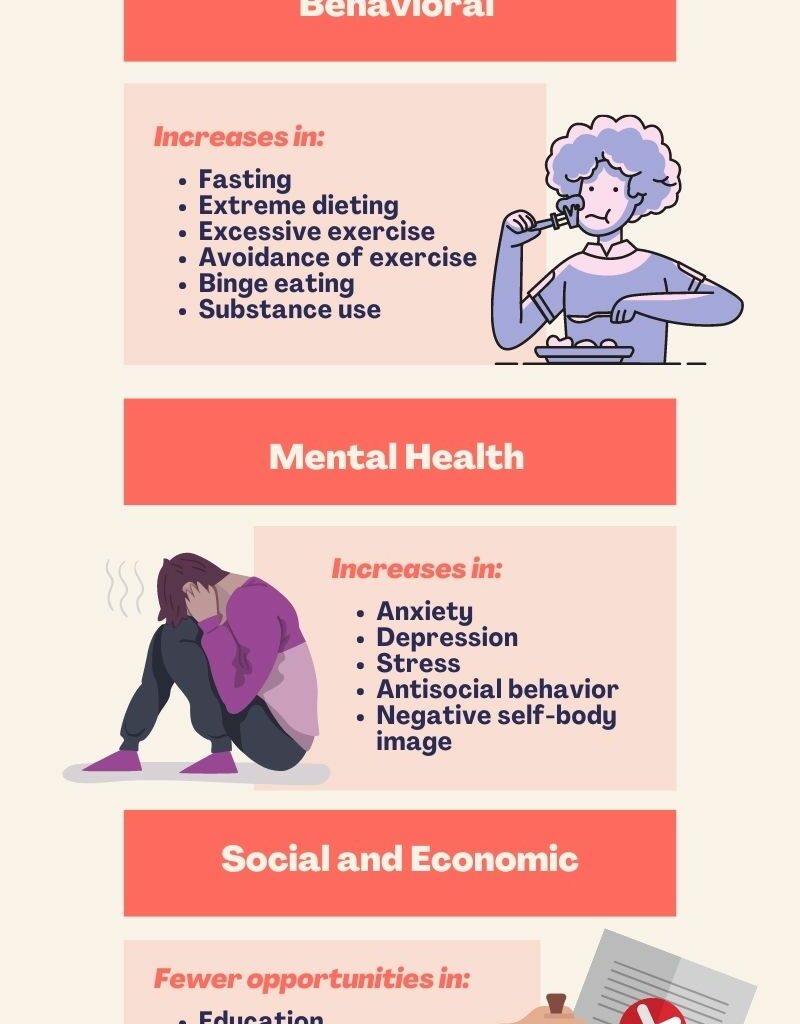 How to combat weight bias
Include diverse and inclusive images to represent weight and health.
Be respectful with your language and terminology.
Refrain from commenting on someone's weight.
Challenge the idea that health only comes in one size.
References:
Alberga, A. S., Russell-Mayhew, S., von Ranson, K. M., & McLaren, L. (2016). Weight bias: a call to action. Journal of Eating Disorders, 4, 34. https://doi.org/10.1186/s40337-016-0112-4

Fruh, S. M., Nadglowski, J., Hall, H. R., Davis, S. L., Crook, E. D., & Zlomke, K. (2016). Obesity Stigma and Bias.

The Journal for Nurse Practitioners : JNP, 12(7), 425432. https://doi.org/10.1016/j.nurpra.2016.05.013
Kirk, S.F.L., Ramos, S.X., Alberga, A.S. & Russell-Mayhew, S. (2020, August 4). Reducing weight bias in obesity, management, practice and policy. Obesity Canada. https://obesitycanada.ca/guidelines/weightbias/
Puhl, R. M., & Heuer, C. A. (2010). Obesity stigma: important considerations for public health. American Journal of Public Health, 100(6), 10191028. https://doi.org/10.2105/AJPH.2009.159491
Sonneville, K., & Bauer, K., (2018). 3 Ways Public Health Professionals Can Combat Weight Stigma. University of Michigan: School of Public Health. Retrieved from https://sph.umich.edu/pursuit/2018posts/3-ways-public-health-professionals-can-combat-weight-stigma.html
Yurico Li is a nutrition student at Ryerson University.