I started the DishWithDina blog back in April 2005 (Happy Blogiversary to me!) as a way to remember all the yummy places I went to after I moved to New York City from New Jersey. In the transition from one platform to another and then integrating everything into this website, I think I lost a handful of posts along the way; but, I kept all the business cards and photographs (I was snapping pics of my meals before Instagram was even a thing) from every outing.
One of my rules of living in the city has always been to never visit the same place twice. With so much to do and see and eat, why not try something different every time you leave your apartment or venture in from somewhere else? Besides, you can't ever guarantee your favorite places will be around long enough, so might as well check out as many as you can before they're gone. (RIP, Benny's Burritos and 7A.)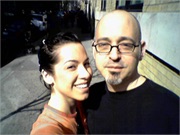 Babies! (04/17/2005)
Such is the way with life, too, though. I don't think any of us intentionally want to regret not doing something differently, not pursuing an avenue because it was unfamiliar, or fearing what would––or wouldn't––happen if we ventured off our regular path. In that realm is where I find myself these days. It's been over six months since I completed my year-long dietetic internship and I am still having issues recovering from the (albeit sometimes self-imposed) toll that experience took on my brain and body. But, as the seasons change and the year progresses and time between the "doing" gets larger and wider, I find myself reflecting on what could be instead of what should have been.
My grad school is finally letting up (one class left!) to a point that I see more flexibility and freedom in my schedule. I'm allowing myself to try new things, to remember what life was like when I would roam the streets of Manhattan, weaving in and out of each neighborhood, tasting and sampling the cultures and the livelihoods that awaited me. I went back to practicing yoga this week after a three-year-long hiatus. I bought hydrating facial masks and have been using them regularly. I met a friend for lunch and then went for a walk afterward. I find myself bolting out of the building and going for a run the minute a ray of sunshine peeks out from the clouds. For the first time in years, I'm reading books that have nothing to do with food, nutrition, or science and everything to do with helping me get back on track, refueling and improving my psyche so that I'm well prepared to develop and grow as each new season unfolds and new opportunities come my way.
In addition, I've met dozens of wonderful new people, after starting my private practice in October, who have donated their time and energy to help get my business up and running and now they're contributing to and breathing new life into this blog. I look forward to sharing more of their contributions––and more of my own insights––with you over the year. And I invite you to share with us what rituals you enjoy, what goals you intend to pursue, and what old habits in your life you're letting go of in order to make room for new ones.