This photo does no justice to tonight's meal [note to self: learn how to take better photos of food] which was a vegan feast of barbecue-style tempeh, potato salad*, and the usual string bean side dish. Â In the world of processed vegan protein foods, the bf and I prefer seitan over tempeh, but I like mixing it up and tempeh won the coin toss this time.
Everything here is pretty filling, so the recipe below can serve about 4.  I also try to be as efficient as possible in the kitchen, so you'll see that I'm using the same pans—and even the same boiled water—in this recipe's steps.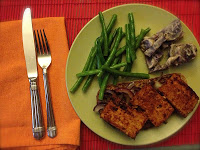 Part 1
1 8 oz pkg tempeh, sliced lengthwise, then into quarters (so you get 8 flat rectangles)
4 Tbsp ketchup
1 Tbsp maple syrup
1 tsp olive, canola, or grapeseed oil
1 tsp apple cider vinegar
1 Tbsp Dijon mustard
1/4 tsp cayenne pepper
1 tsp soy or tamari sauce
Dash chipotle or Tabasco sauce
1/4 tsp garlic powder
Part 2
1/2 red onion, sliced thinly
1 Tbsp olive, canola, or grapeseed oil
1/8 tsp Kosher or sea salt
Part 3
4 slices sourdough bread (this is my favorite)
Part 4
4 small purple or red potatoes, washed and cut into large slices**
2 Tbsp vegan mayo (like Vegenaise)
1 Tbsp Dijon mustard
1 tsp horseradish
1/4 tsp ground black pepper
Part 5
1 lb string beans
1/2 Tbsp olive, canola, or grapeseed oil
1/4 tsp Kosher or sea salt
1/4 tsp ground black pepper
1/4 tsp garlic powder
*the potato salad looks horrible in this picture, but, I swear, it was very tasty
**I always leave the skin on my potatoes, but feel free to peel them if you wish
From "Part 1," mix all the ingredients except the tempeh in a flat-bottomed bowl. Layer the tempeh slices in the bowl, spooning the mixture on top and around each layer so that all pieces are coated evenly. Cover and place bowl in refrigerator for about an hour.
In a frying pan over very low heat, sauté the onion over the oil ("Part 2"), stirring often, until translucent, about 10 minutes. Add the salt and stir again, cooking another 4 minutes. Remove onions from pan and toast the bread ("Part 3") in the same pan, about 2 minutes each side. Remove bread. In same pan, cook marinated tempeh slices from "Part 1" over low heat (add a little more oil if pan is too dry at this point), about 4 minutes each side.
Fill a large pot with water (leave about one inch from top) and a sprinkling of salt; cover and bring to boil over high heat. Uncover, lower to medium-high heat and cook potatoes ("Part 4") until soft, about 7 minutes. Remove potatoes from pot and place in bowl; dress with remaining ingredients from Part 4.
In same pot with same water, bring back up to boil, then add "Part 5″ string beans.  Cook until tender, about 7 minutes.  Drain and toss with remaining "Part 5" ingredients.
To serve, place one slice of bread on each plate; top with sautéed onions and 2 tempeh slices each (I used 3 slices in the photo above).  Add a scoop of potato salad and string beans to each dish.