When it comes to getting away (from it all and for a decent stretch of time), how often is too often, if there even is such a thing? How much is not enough? I just returned from a week-long vacation after having not been on one for over three years, so, to answer my own question: three years might be too long to go without getting away.
This trip was pure bliss, not just because I was traveling with my honey, but because I've been so bonkers with school and business responsibilities, I promised myself I'd embrace the feeling of doing nothing. Being ever the planner, though, I enforced a strict dress code of "nothing with buttons or zippers!" and made sure everything we packed fit into carry-on luggage only so we could whiz through the airport as we pleased. Nothing will hold me back from bliss!
Thankfully, I'm not the outdoors-y, adventurous type to begin with, and the bf accommodates my lackadaisical ways, so it was easy to forego signing up for excursions and saying no to the local tour vendors who marched up and down our beach every hour, trying to lure us from beneath our umbrellas and onto a parasailing boat.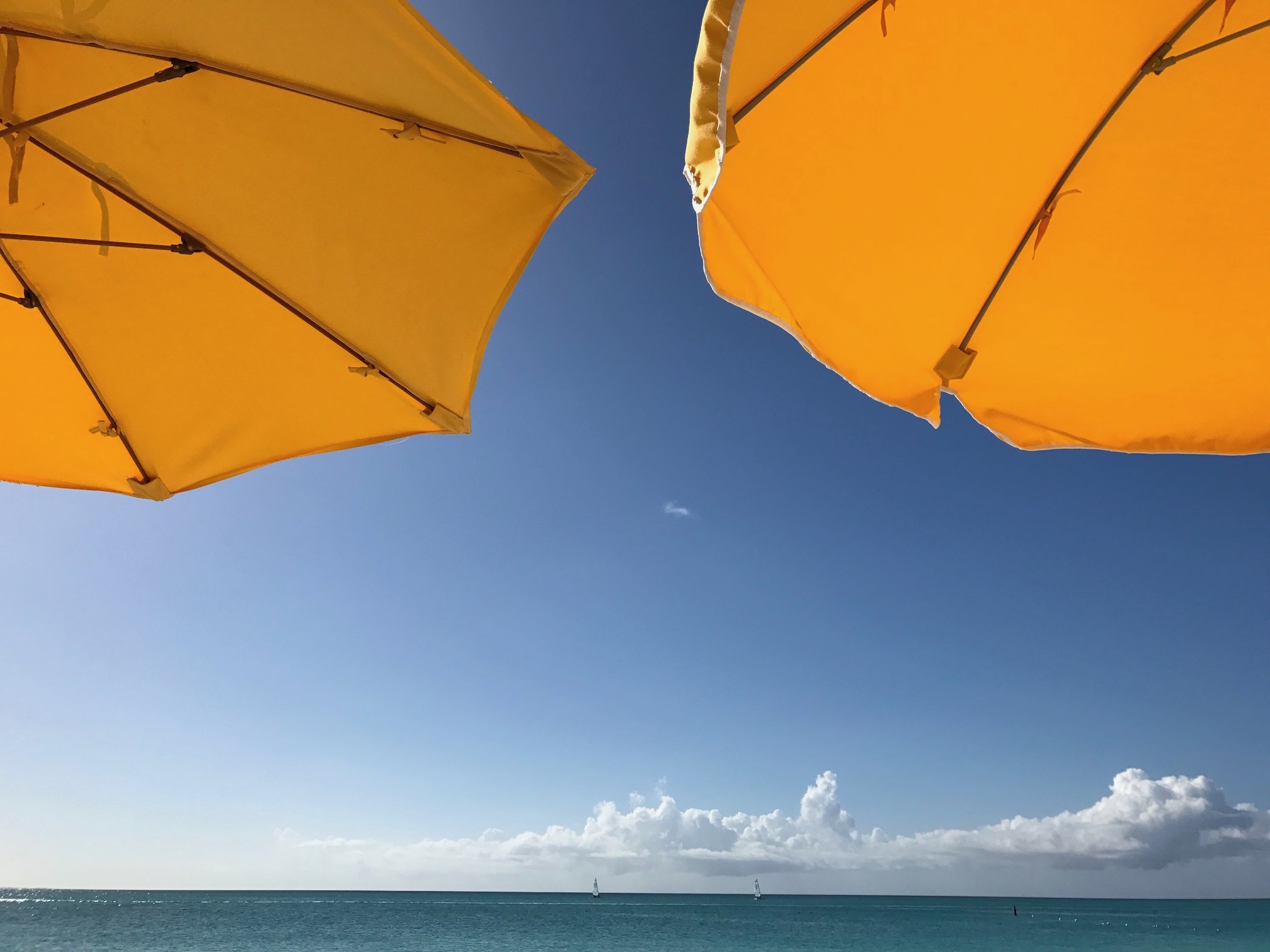 I'm fine right here, thanks.
Grace Bay Beach ranks every year as one of the best beaches in the world and is located on the island of Providenciales within the Turks & Caicos Island (TCI) chain. We've been to Grace Bay three times and it was our second time back to Alexandra Resort (the same spot we booked the last time we took a vacation), which just turned all-inclusive and lost on us because we don't eat a ton while we're away, I'm a teetotaler, and see above regarding excursions. Meal prices onsite seemed a little exorbitant for us as a pay-as-you-go couple and TCI imports almost everything, so, while we made a point to go grocery shopping as soon as we landed and most of the items at Graceway Gourmet were equivalent to what we'd find shopping at home, quality-wise, it was a little challenging sticking to our food budget.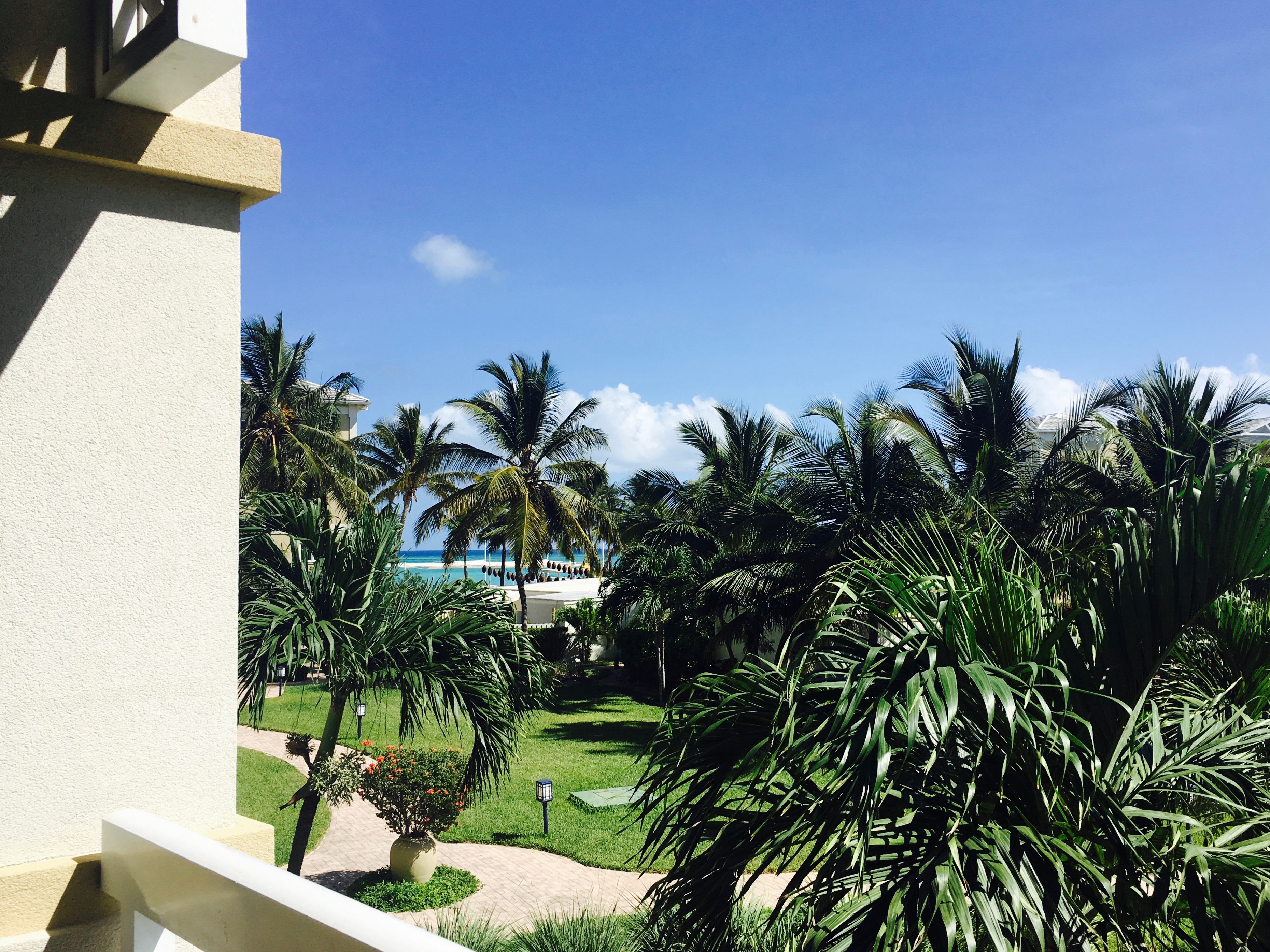 "Ugh with this view," said no one ever.
I think it goes without saying that when you're on an island getaway, you'll be eating a ton of fish (if pescetarianism is your thing). In TCI, though, most of that fish is in the form of conch fritters or fried grouper, so we were happy that our supermarket haul allowed us to give our tummies a break every few meals.
A delightful veggie platter from our grocery trip.
Toward the end of our stay, we ventured back to have a meal at Lupo (you can't really take me anywhere without me having a pasta craving at some point), a delightful rustic Italian restaurant that we found during our last stay on Grace Bay three years ago. I was thrilled to see they were still open for business and thriving.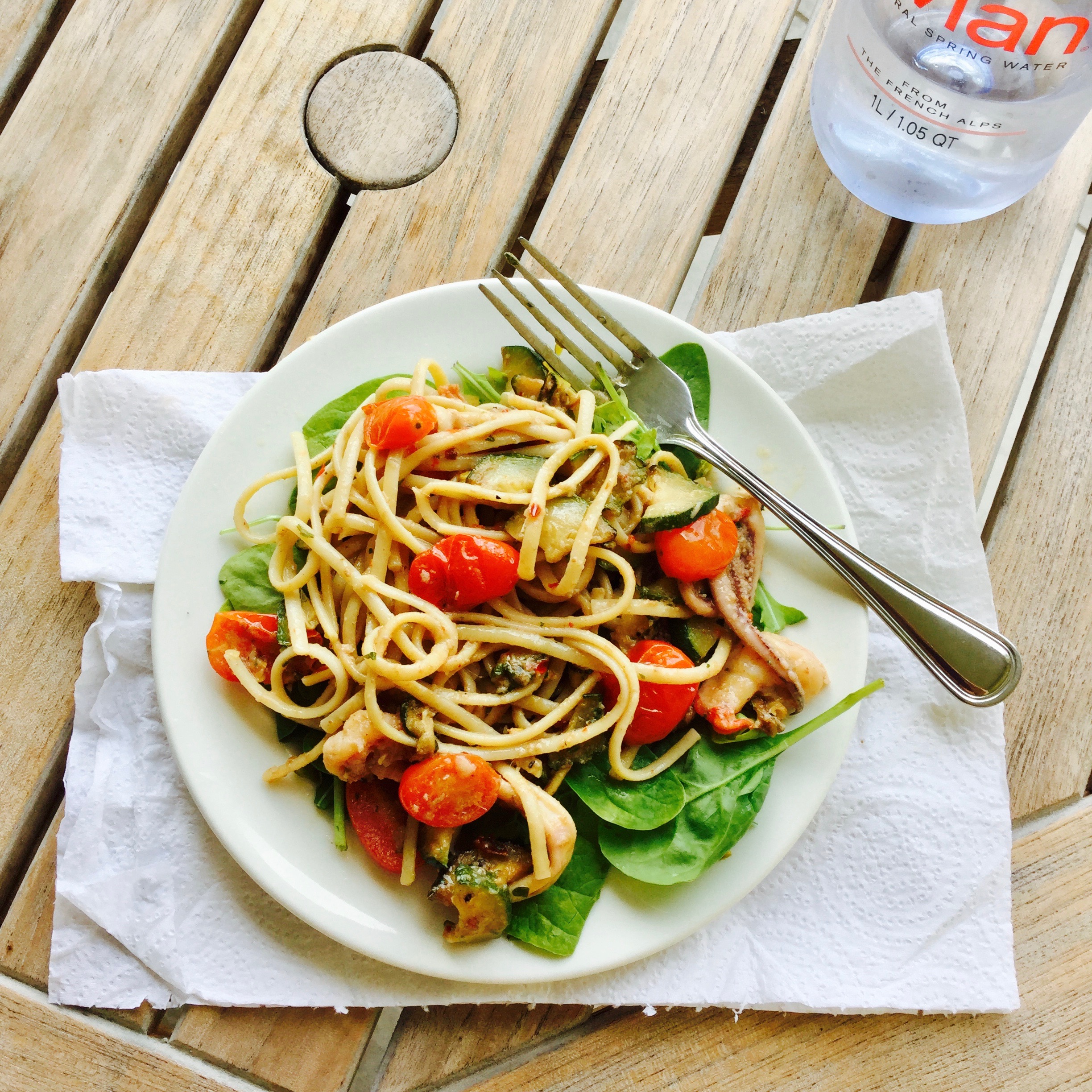 Enjoying Lupo leftovers (with a handful of greens thrown in, of course) on the balcony.
Now that we've returned from our getaway, I think I'm still in vacation mode and hope this feeling lingers a little longer. Being in New York City, it's easy to get caught back up in the whirlwind of this environment and forget all about riding that wave of rest and relaxation. But, I'll tell you this much: there is no way I'll be letting another three years pass without giving myself another proper vacation. After all, what's more important than to empty out your brain every so often, visualize amazing things, and take in some of the beautiful gems that nature and life have to offer you?