NUTRITION COUNSELING
Thank you for your interest and willingness to work with me!
Aside from being a Registered Dietitian Nutritionist and member of the Academy of Nutrition and Dietetics, I also have an extensive background in planning and project management. If you're looking to manage your weight, incorporate healthier eating habits, or manage a chronic condition, I know how to successfully and painlessly get you from Point A to Point B (or Point Z) by building a personalized strategy to meet your nutritional goals without disrupting your life.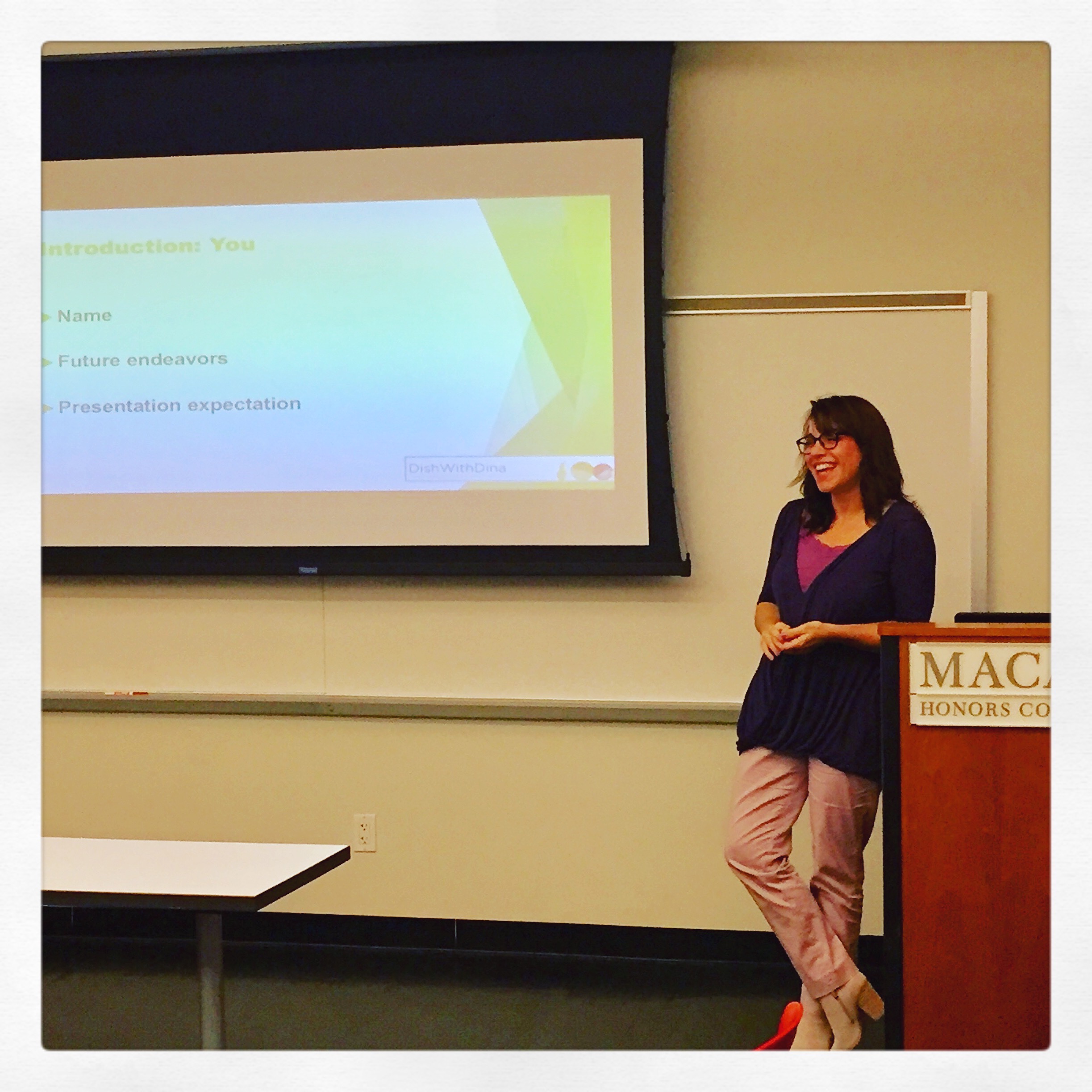 INDIVIDUAL & GROUP SERVICES
3- or 6-month Healthful Lifestyle Coaching/Nutrition Counseling
One-hour Healthful Lifestyle Coaching/Nutrition Counseling
Meal & Menu Planning
Kitchen & Pantry Assessment
Cooking Skills Instruction
Personal Chef
Grocery Store/Greenmarket Tours
Webinars/Teleconferences
Corporate Wellness
I am also qualified to administer MEDICAL NUTRITION THERAPY to anyone suffering from a chronic illness, such as:
Cardiovascular Disease
Diabetes/Gestational Diabetes
Kidney Disease
Gastrointestinal Disorders
Food Allergies/Intolerances
CLICK HERE to download brochure.
I want to provide my clients with the best possible sessions, so, based on my current availability, client needs, and projected travel times, I may only able to take on a limited amount of clients at any given time. I also reserve the right to refuse service to anyone who may require professional medical attention—as that is above and beyond the scope of my services and a potential liability issue—or other reason. If I deny service to you, I will notify you by e-mail within 2 business days of receipt of your request. (See also Disclaimers & Terms.)
To book an appointment, please click the "Book Appointment" button below. (Payment instructions will be sent to you after your appointment has been confirmed.)
Hours of operation (Eastern time U.S.A.)​:​​
Mon & Wed, 10:00 am – 8:00 pm
Fri & Sat, 10:00 am – 2:00 pm
Depending on the package in which you are interested, you may receive a New Client Questionnaire so that your current food and nutrition needs can be evaluated prior to your first session.
If you do not find a package that fits your needs or budget, please contact me with your specifications and I will gladly customize sessions for you instead:
All correspondence received will be returned within 48 hours. (There will be no return correspondence on Sundays unless otherwise noted.)
– Dina R. D'Alessandro, RDN, Founder & Chief Executive Life-changer of DishWithDina
****************
FREE SERVICES
Recipe Revamp: If you have a full-fat recipe, a hand-me-down from days when "lighter" ingredients were nonexistent, or need to substitute something but just don't know how, e-mail it on over to be reconstructed and returned to you within 48 hours.
E-mail Newsletter Subscription: Click the "FOLLOW ME" button on this page to receive recipes, updates, kitchen tips, and other musings.
Click here for *FREE* downloadable forms, templates, and other resources.
****************
MONTHLY WEBINARS/TELECONFERENCES
The monthly webinar/teleconference series has not yet begun. Please check back regularly to view topics.
****************
CURRENT EVENTS
The 2019 calendar of events has not yet been finalized. Please check back at a later date.
****************
PREVIOUS EVENTS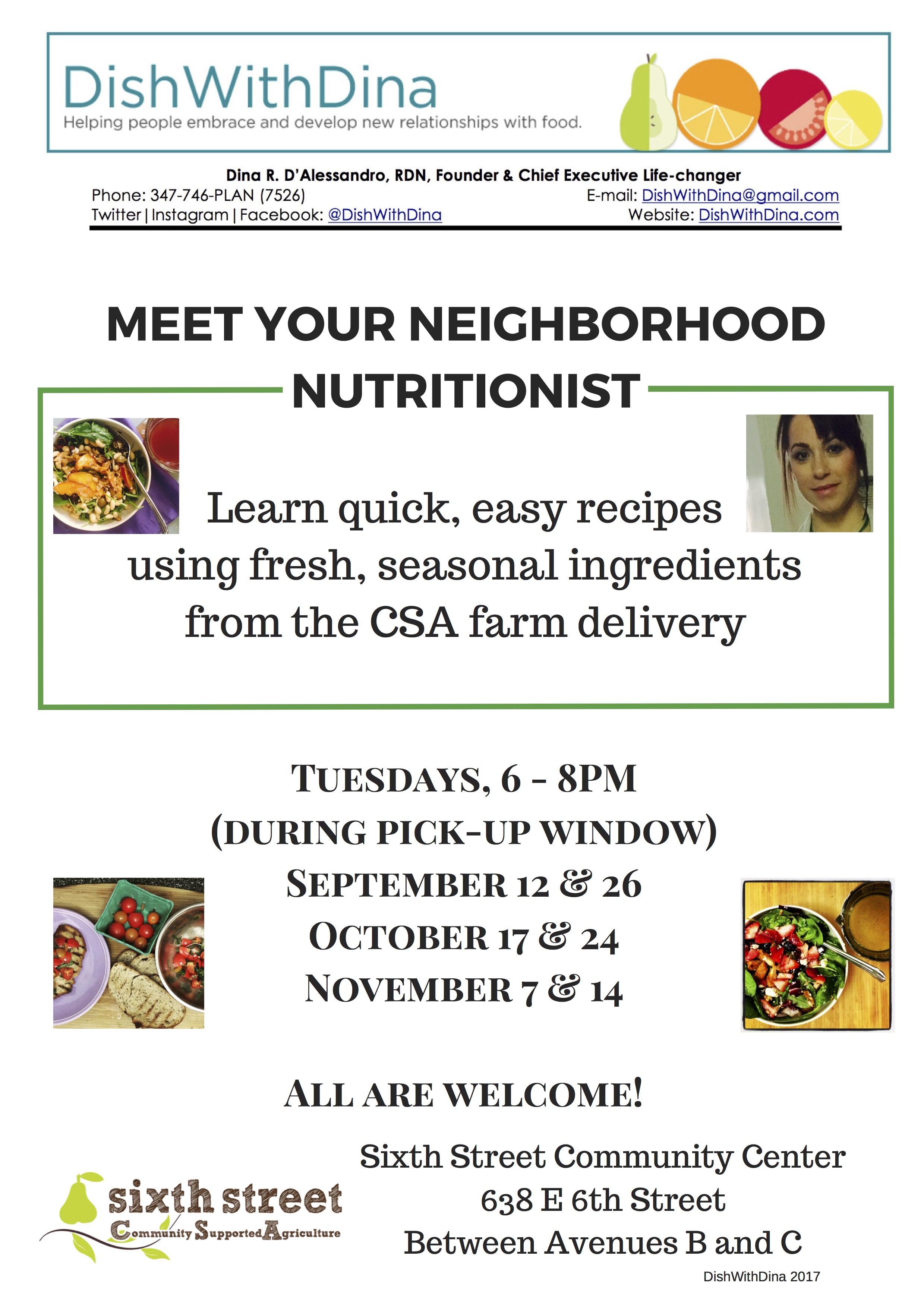 ****************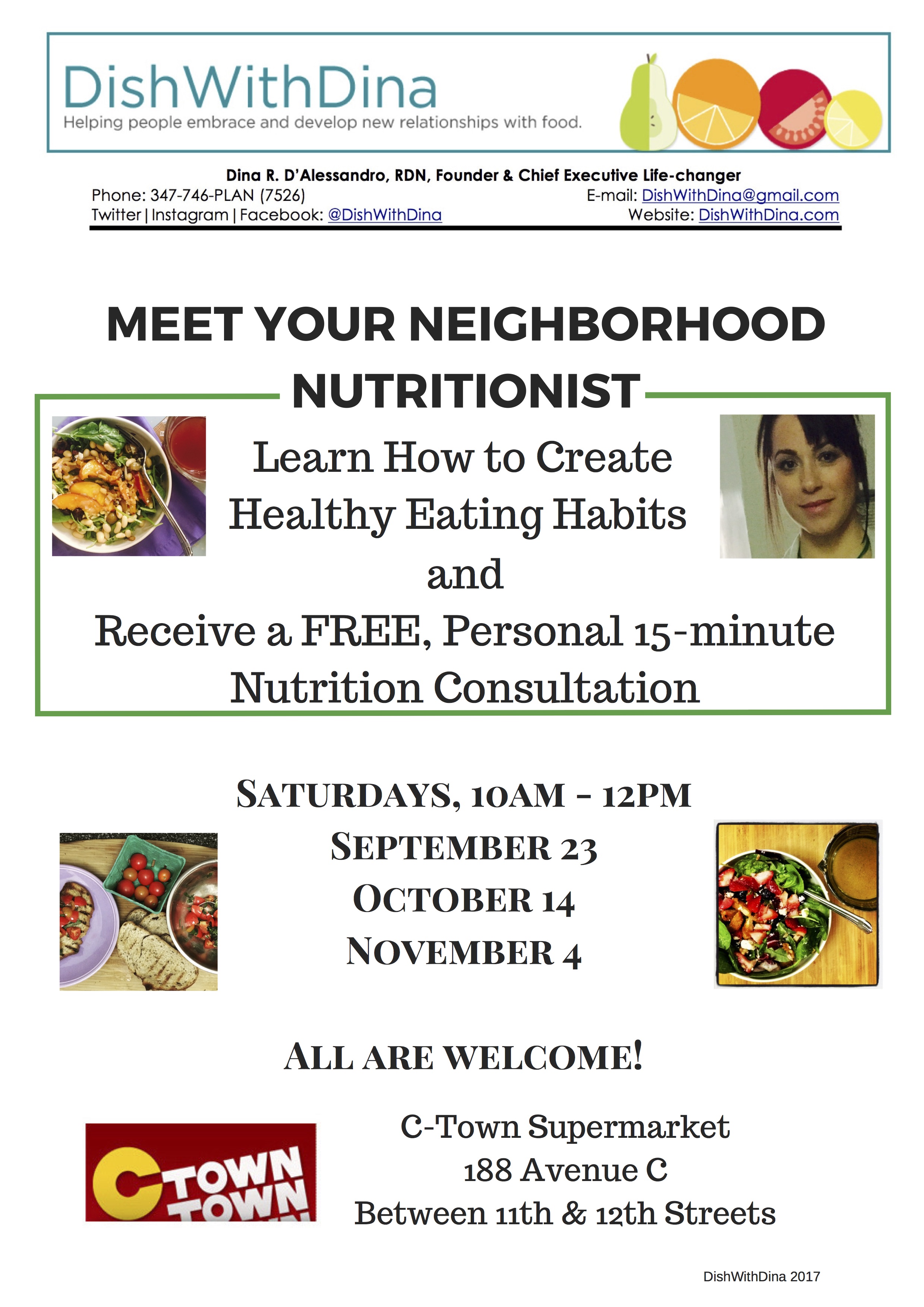 ****************
OTHER EVENTS
Please check back regularly to view upcoming events, such as:
Community Walks • Four-week Fast Track Group Workshops • Meet-ups • Nutrition Internships
****************
IN THE WORKS!
Keep an eye out for exciting new services, products, and features to come:
Apps • Book • Cookbook • E-book • Google Hangouts • Health Food Stores • Magazine • Newsletters • On the Road • Podcast • Talk Show • YouTube Channel